UPCOMING EVENTS
| | |
| --- | --- |
| September 29– HS Fall Concert (7:00 PM) 高中秋季音樂會 (7點) | |
| October 3-5– MS Experiential Learning Trips 國中部體驗活動之旅 | |
| October 6-16– Fall Break; no school for students 秋假; 學生放假 | |
---
CC Cafe: OCTOBER
10月CC Cafe時間
Dear EMS Parents,
October's CC Cafe will be Wednesday, October 5 from 8:30-9:30 am in the cafeteria. October's topic will be Morrison's College Application Process. Come and hear about our philosophy when it comes to college applications and a detailed description of how we help students apply to university. Light snacks and coffee will be provided. CC cafe is open to parents of all grades and is hosted in Mandarin. We hope to see you there!
10月份的CC Cafe時間為10月5號星期三上午8點半到9點半,地點在餐廳。10月份的主題為馬禮遜學校學生的大學申請流程。歡迎您前來參與了解我們對於學生申請大學的想法與如何幫助學生申請合適的大學。現場將提供咖啡和點心。CC Cafe時間開放給所有年級的家長,現場會以中文來分享。我們期待見到您!
---
I AM A HERO Games/ Swim Meet
我是小英雄運動會 戲水闖關活動
Last Friday, the Morrison swim team partnered with Taiwan Sunshine to invite students with special needs from Beixing JHS and Renai ES to our Swim Meet. It's been two years since we have had a Hero Games-Swim Meet. Some of the guest athletes struggled to get into the water at first, but slowly felt more confident being at the pool with the encouragement of our MAC swimmers.
上週五 馬禮遜泳隊協同恩美協會邀請北新國中及仁愛國小特教學生參加戲水闖關活動。距離上一次的戲水闖關活動已隔兩年。一開始,有些學生不太敢下水,但在我們泳隊學生的鼓勵下,慢慢可以在水中自信活動。
One of the guest teachers told us: "Some students were breathing hard at the beginning of the Hero Games. Since the pandemic restrictions were enforced, our students have been asked to stay in the classroom and not be able to engage in outdoor activities."
其中一位客座老師跟我們說:「有些學生在活動剛開始就喘氣、呼吸困難,累了。因疫情的限制下,學生們都只能待在教室,沒辦法參與教室外的活動。」
The Hero Games- Swim Meet was a big success with your support. We'd like to thank the swim team members for being the guest athletes' buddies, the coaches for organizing the details, the parents for making donations, the photographers for running around and getting great photos, the assistants for moving equipment, and the spectators who cheered for our athletes……There are too many things to list but I'll keep this message short with an overall, "THANK YOU!"
在您的支持下,我是小英雄運動會 戲水闖關活動 大成功。我們要謝謝泳隊學生陪伴受邀學生、感謝教練組織細節、感謝家長的捐款、感謝跑來跑去拍精美照片的攝影師、感謝搬運設備的助手及為受邀學生歡呼的觀眾…..有太多的感謝需要列出,但是最終還是一句 "謝謝大家!"
"I Am a Hero" Games- Swim Meet Photos 
---
VOLLEYBALL SKILLS CAMP
排球技能學習營
A volleyball skills camp will be offered by the 2022 Varsity girls volleyball team as a fundraiser for their ACSC trip to the Philippines. This camp will be held on  Saturday, October 1st, from 9:00 am to 12:00 pm. The location is the Morrison Academy gym. Ages K-8 are invited to sign up and attend! The cost is NT$300 per camper. Hope to see you there! 

今年的女子排球校隊將舉辦排球技能學習營,此活動的收入將作為他們前往菲律賓參加ACSC賽事的經濟支持。這個學習營將在週六10月1號上午9點到中午12點舉行。地點在馬禮遜的體育館,幼兒園至八年級的學生都歡迎參加,每一位的收費為300元,欲參加者請填寫此表單,歡迎您的孩子一起來學習!
---
HS Fall Concert
高中秋季音樂會
On Thursday, Sept. 29, the HS Band, Orchestra, and Choir will be performing a light, cheerful, pops concert at 7:00 PM in the auditorium. All are welcome to attend!
9月29號星期四是高中的秋季音樂會,高中管樂團,高中弦樂團和高中合唱團將聯合演出,時間是晚上的7點在學校的禮堂,歡迎您蒞臨參加!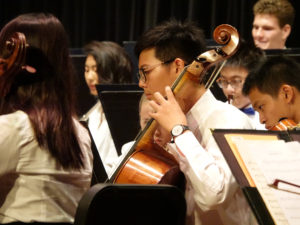 ---
LINGER LONGER FUNDRAISER
賽後義賣活動
There will be desserts, drinks and entertainment, so come for a fun night! All donations will be going to the varsity volleyball team, for the ACSC tournament next month. Thank you for supporting us!
現場會有甜點,飲品和小遊戲,邀請您ㄧ起來參與歡樂的夜晚!所有的捐贈都將用在下個月排球ACSC的賽事支出上。謝謝您的支持!
---
SNAPSHOTS AROUND CAMPUS
EMS Express Newsletter Archive
UPCOMING EVENTS September 29– HS Fall Concert (7:00 PM) 高中秋季音樂會 (7點) October 3-5– MS Experiential Learning Trips 國中部體驗活動之旅 October 6-16– Fall Break; no school for…